BrandsMart, an independent electronics retail store in Kansas City, Missouri ran a private sale promotion twice a year. Private sale promotions historically were the best sales of the year. After many years of running this promotion, the effectiveness started to dwindle. BrandsMart turned to SCA to offer a chance to win a free car just for showing up at the sale. BrandsMart put a number on every invitation. The wording on the invitation read; "We have sent out the winning invitation, DO NOT LET THIS PRIZE GO UNCLAIMED!" The underwriting company randomly picked one of the numbers that were sent to the customer base. This promotion was a huge success as it DOUBLED the sales of the same event over the prior year!

Brandow Fairway Chrysler Jeep in Jenkintown, Pennsylvania wanted a promotion that would attract attention to their dealership and bring NEW customers. They turned to a direct mail keyless remote promotion. The strategy was to offer a PT Cruiser as a grand prize. They mailed 5,000 keyless remotes to their area zip codes with an invitation to the dealership to try to unlock the car. If the remote unlocks the car, the customer wins the car and the underwriter covers the cost. One lucky customer was the winner. During the five days the promotion ran, over 300 customers brought in the remote to see if they won and shopped at the dealership. "The event was very successful and traffic increased dramatically at the dealership" said Lou Tecco, the agency representative.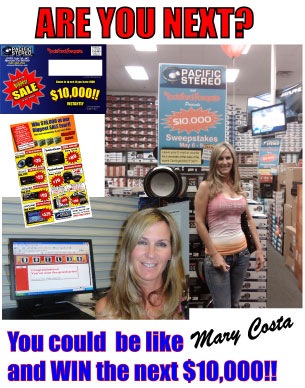 CAR AUDIO RETAILER GIVES AWAY $10,000 GRAND PRIZE TO ONE LUCKY WINNER

Pacific Stereo of Riverside CA, and Promotions That Work, hold "Biggest Sales Event Ever"

Tempe, AZ, May 7, 2009 – Pacific Stereo, of Riverside California, partners with Promotions That Work to launch "The Biggest Sales Event Ever." On Wednesday May 6th the 4-day promotion was officially kicked off yielding a $10,000 grand prize winner on the first day. Mary Costa not only got a great deal on a car stereo system but also walked away with one of the grand prizes. "I never imagined this in a million years! I've been in this business for a long time and it takes a lot to impress me…this has done it! Customers are not only flowing through the doors but are opening their wallets and purses; We've sold a lot of gear in a short amount of time. Going into this I was a little skeptical but Promotions That Work handled everything soup-to-nuts…this is the way I will promote moving forward! Having a 10k winner on the first day is just icing on the cake!" Stated Ron Alquzah owner of Pacific Car Stereo. The Pacific Stereo event was a custom promotion built from the ground up. Promotions That Work delivered Pacific Stereo an optimized mailing list targeting a specific demographic, circling a 12 mile radius from the event. The list was utilized in a direct mail campaign sending promotional collateral, developed by PTW, to advertise and update consumers about the event. PTW utilized it's vendor relationships with Rockford Fosgate to build an optimized marketing strategy for the manufacturer as well as the retailer. Along with advertising, for Pacific Stereo and Rockford Fosgate, PTW also built and insured the $10k grand prizes which are the promotional catalyst for the event. "In an ever changing marketplace where customers are a "premium" Promotions That Work focuses on affordable alternative marketing strategies, whether you're looking for new customers or need assistance in organizing a private sale…we've got the solutions from top-to-bottom. You no longer can just advertise traditionally, you need to create custom opportunities that you can promote with…we need to actually drive traffic." States Rob Wempe, President of Promotions That Work.


How it works

Step 1 - Call Promotions That Work! Tell us what you want to do and the time period you would like to run the promotion. We will help you decide what will work.

Step 2 - Tell us how many customers in your database or how many customers you would like to target by buying a list that is targeted to your demographic.

Step 3 – Pick out a prize and a game to claim the prize.

Examples:

Number match game – Number each invitation. The day of the promotion, you will receive a poster with twenty numbers on it. One of these numbers is the winner. If one of your customers brings in an invitation with one of these numbers on it, at the end of the sale you will open a security envelope to see if they won the car. (5000 minimum invitation to play this game)

Driver's License or VIN # match game – This is a great game if you have a smaller list or you would like to offer secondary prizes from your company. When the customer comes to your store to see if they are the big winner, they input the last 5 numbers of their driver's license or VIN, whatever you decide before the promotion. If all 5 numbers match in order, the customer is a big winner. Since there are 5 numbers, they may match 1, 2, 3 or 4 of the numbers. You can give prizes for these matches also. You can have our underwriter cover these prizes or you can offer products or discounts in your store.

Step 4 - We will draw up a contract explaining everything that you can expect.

Step 5 - Together we will decide what is the best way to promote your promotion on your mailer.

Step 6 - Sell Product!